'Child's Play' is your friend till the end
Fact: dolls can be really creepy. Similarly, children in horror movies always create tension. Sure, any slasher flick is hair-raising, but it's even more anxiety-ridden when we're worrying about tots. "Child's Play" combined both tropes with its memorable Chucky doll, but actually framed the doll as a comedic killer. "Child's Play" uses a great premise and inventive, hilarious delivery, a deadly combination.
Serial killer Charles Lee Ray (Brad Dourif), dubbed the "Lakeshore Strangler," is attempting to evade the authorities when he's shot by Detective Mike Norris (Chris Sarandon) in a toy store. Naturally Ray dabbles in voodoo, so he simply passes his soul into the ironically named "Good Guy" doll nearby. We then meet the Barclay family, Karen (Catherine Hicks), and her six year old son Andy (Alex Vincent). It's almost Andy's birthday, and all he wants is a Good Guy doll, which is a tad out of Karen's price range.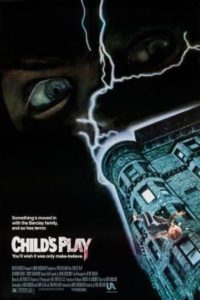 Thankfully, she finds one for sale pretty cheap from a guy in a back alley, but it turns out this factory second has a fatal flaw: Charles Lee Ray's soul. Chucky speaks a few phrases as a doll, but soon the possessed plaything begins talking to Andy. Clever Chucky pretends to be inanimate around adults, duping them into believing Andy's accusations are simply childhood imagination.
"Child's Play" meshes two intriguing horror tropes: kids in danger and dolls. The seemingly innocent child's plaything appears cheerful and bright. Chucky's large, bright eyes present an affable demeanor. Even the name, "Good Guys Doll," contrasts with the serial killer soul inside. Andy is perfect as the excited kid who not only gets the toy of his dreams but one that talks and comes to life.
Chucky's personality makes "Child's Play" wonderfully amusing. He's a tongue in cheek villain with some memorable lines. Notably, there's a sidesplitting "…from now on, no more Mr. Good Guy." The wit of a child-like figurine wearing overalls who's really a foul-mouthed murderer is refreshingly delightful. Like any good horror film, "Child's Play" initiated a series, including "Curse of Chucky" which dropped in 2013. "Child's Play" is infinitely enjoyable, and will surely be your friend till the end.
Save